St. Francis House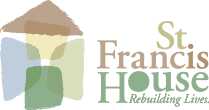 Credit: St. Francis House
Contact
Street Address:
39 Boylston Street
Boston, MA - 02116
Open Google Maps
Phone:
(617) 542-4211
Email:
info@stfrancishouse.org
Website:
Email:
https://stfrancishouse.org/get-involved/donate-now/
Description
Please visit St. Francis House's website or call them to confirm the hours of operation and/or services listed on this website are still available.
People experiencing homelessness lack many of the basics that others take for granted, such as a daily shower. We provide nearly 10,000 showers a year to our guests, along with toiletries, including shaving cream, razors, toothbrushes and toothpaste.

Attention!
The description above may have been submitted by the facilities manager at St. Francis House or by a user contributor like you. If you are aware of any copyright infringement, please contact us.
Related Posts:
Questions & Answers
Help others like you find out more about St. Francis House. Do you know the answers to any of these questions? Contribute now and help others like you.
Q. How many showers are there at this location?
I believe there are around 12-16 total.

Jul 24, 2022
Q. Is there a fee to use the showers?
The showers are Completely FREE to use?

Jul 24, 2022
Q. Are the facilities safe and clean?
Usually emergency showers will be just one person.

Jul 24, 2022